Uncategorized
now browsing by category
Posted by:
Angelica Burcea
| Posted on:
September 1, 2019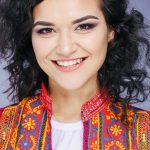 I am 25  years old and I'm romanian, born in '95. My whole life is about education. I have always loved to teach and I've been teaching since I was 13 years old. I worked in all educational stages, with children of different ages, typical and atypical children (autism, disability etc.) from kindergarten to high school. I also am psychologist for children and adults.
   I'm full of energy, very curious and eager to learn new things, I laugh and smile all the time, I was born to be a leader, but also a good team player and passionate about Oriental Culture since I was a little girl and used to dance on arabic music.
   I graduated from Master in Psychotherapy and then I decided to do what I know and love the most, to inspire people around me.
    There are 3 things that I want to do in my life:
to empower women to believe in themselves, be educated and fulfill their dreams;

to travel and meet people from another contries, to learn about their culture.

to write books to inspire people.
"When a woman succeeds, she reaches out to those around her and pulls them up with her. If you empower a woman, you empower a whole society." – Queen Rania
Psychology & Personal Development

Beauty & Business Consultant

Lifestyle & Travel Addicted

Nutrition & Sports
Hugs and kisses,